Featured Porsche 911 For Sale
A Classic Feeling with Innovative Features in the 2020 Porsche 911, now in Durham - Raleigh

Porsche models hold a special place in the market, being sophisticated and elegant while maintaining a sense of power and excitement. There are many different features and options for you to look through, making sure you will be able to enjoy every minute that you are inside. The 2020 Porsche 911 models stand out - even from other Porsche models - and we are excited to show you how. The 2020 Porsche 911 is available in multiple trim levels, including the Porsche 911 Carrera, 911 Carrera Cabriolet, 911 Carrera 4, 911 Carrera 4 Cabriolet, 911 Carrera S, 911 Carrera S Cabriolet, 911 Carrera 4S, and 911 Carrera 4S Cabriolet.
Interior Features & Design
The cabin is designed around you, ensuring you will be able to enjoy your time behind the wheel. The design pulls from classic elements of Porsche while having many innovative features to distinguish the new model year. The horizontal orientation of the interior makes it more unique and versatile than other models on the market, keeping a clear and light interior for the easiest use whenever you are driving in Durham.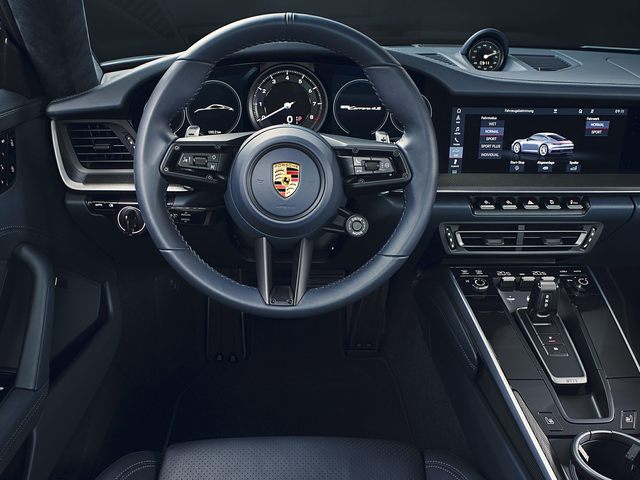 Exterior Features & Design
Porsche models are distinctly beautiful, offering you a design that will stand out from any crowd, which is a feature not lost with the 2020 Porsche 911. You'll be able to decide between coupe and cabriolet body styles so that it will always meet the needs of your life. There is also a wide array of colors and features for you to choose from.
Performance Options
You will know that you can enjoy your time inside the 2020 Porsche 911 Carrera thanks to the performance befitting a Porsche model. There are multiple engine options to get you the power that you are truly looking for. The base option is a twin-turbocharged six-cylinder that makes 379 horsepower, upgradeable to a 443-horsepower option for a little more kick when you want it.
Technology & Infotainment
The 2020 Porsche 911 Carrera comes with a 10.9-inch touch screen system that is more responsive than the last. The position of the screen makes it easy for the driver to control everything from that screen. Under the screen are five buttons with the looks of classic toggle switches, putting the more traditional looking buttons further down the console.
Come take a test drive today in the Durham - Raleigh area at Porsche Southpoint.
Research a Model: