Welcome to the official page of 1st Saturday at Porsche Southpoint.  On the first Saturday of each month, members of the Porsche Club of America Hurricane Region, as well as Porsche enthusiasts, display their beautiful cars and chat about the one thing that brings us together, Porsche!  Our Porsche Ambassadors, who are also Porsche owners, will answer any and all questions you have about Porsche.  Each month has a different theme, so mark your calendars and stop by Porsche Southpoint! Remember, this is not an exclusive Porsche Club of America member event; all Porsche enthusiasts are welcome.
As an added bonus, we have a variety of rare and historical Porsches on display in our showroom, courtesy of the Ingram Collection. Below are two examples of Ingram Collection vehicles we have had on display for past 1st Saturday events.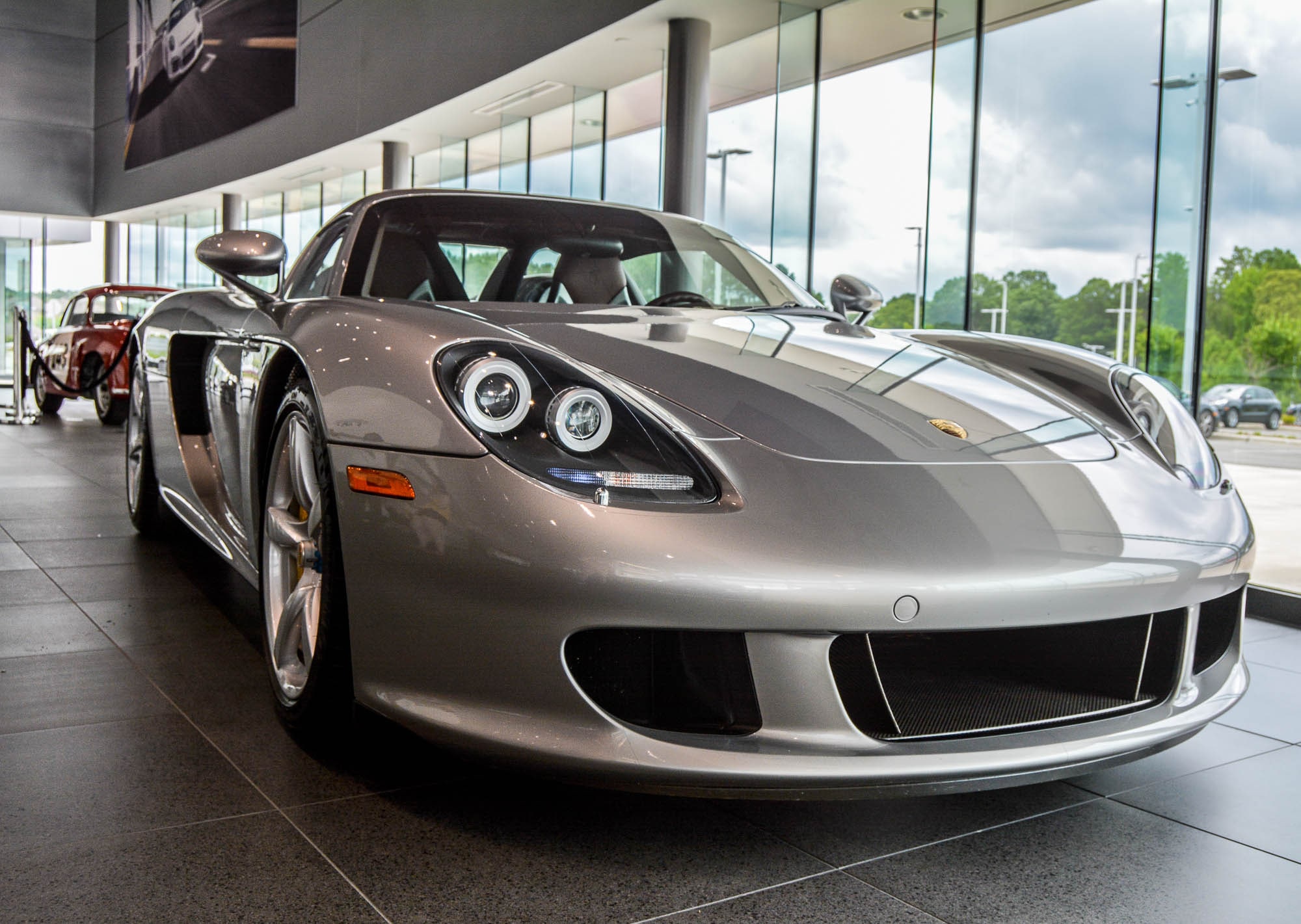 2005 Porsche Carrera GT
The extremely light and strong carbon-fiber-reinforced plastic body of the Carrera GT weighs approximately 220 pounds.  Other design highlights include the V-shaped Xenon headlamps, removable roof, V-shaped exterior mirrors, and stainless steel-mesh power domes behind the seats to vent engine heat.  Rising at speeds above 75mph, the rear wing increases downforce approximately 30 percent.  Porsche adapted the Carrera GT's performance engineering from its racing cars with a 605 horsepower, 5.7 liter V10 engine that weighs only 472 pounds.  The six-speed manual transmission is transversely mounted for optimum weight distribution and engineered for light weight.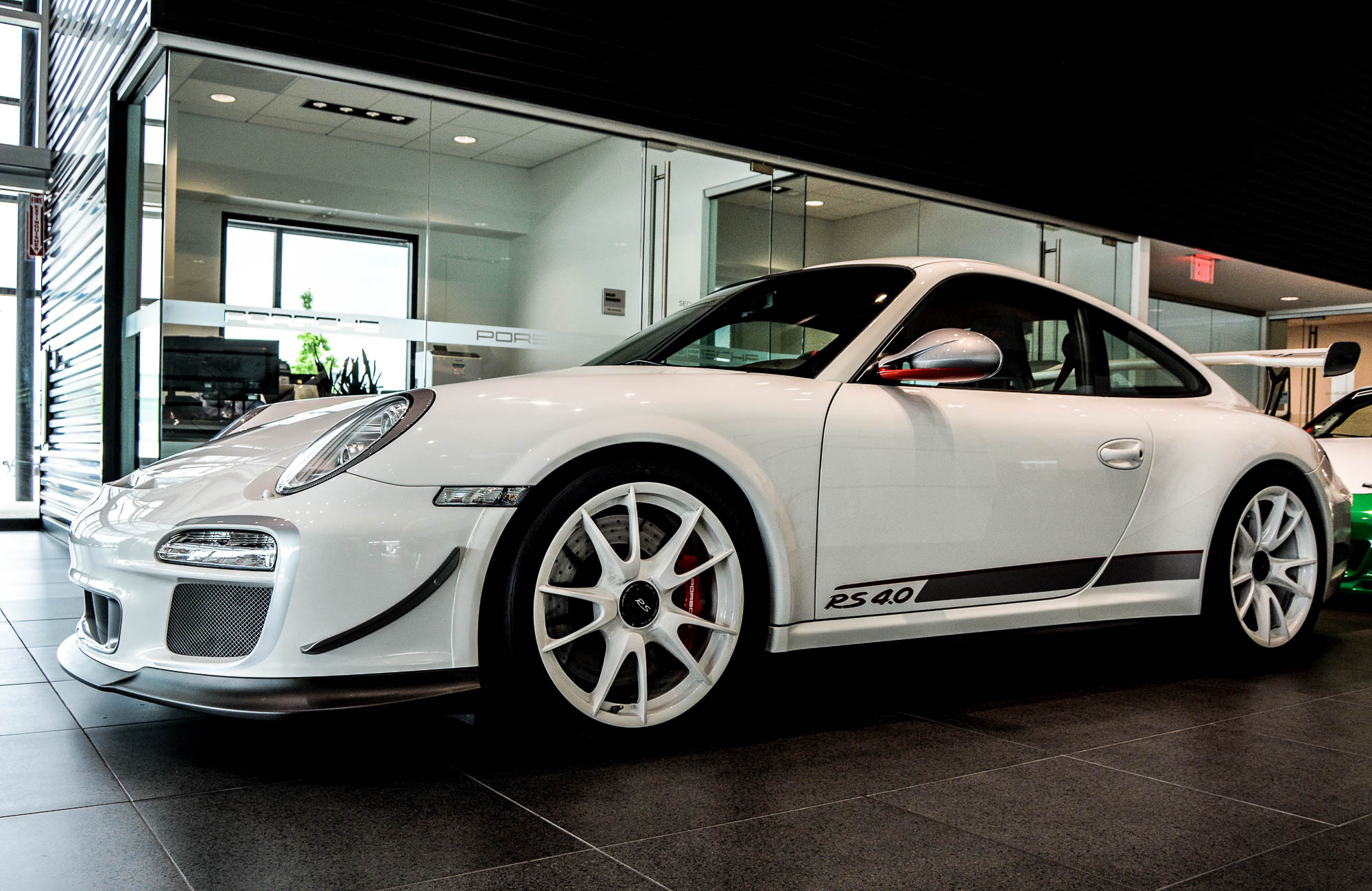 2012 Porsche 997 4L
With the Porsche 911 GT3 RS 4.0, One of Dr. Ing. H.c.F. Porsche Ag, Stuttgart's most popular, coveted, and successful racing pedigree production car is entering the home straight.  Limited to 600 vehicles, the 911 GT3 RS 4.0 brings together in a road car all the attributes that have made the Porsche 911 GT3 a serial winner on the race track.  The RS 4.0 is also the last 911 that Porsche produced based on the Hans Metzger-designed flat -six motor.  For some years, this engine has only been used in Porsche's GT3 and GT2 cars, all other 911's, Boxsters and Caymans using an entirely unrelated, much cheaper to manufacture, direct-injection flat-six.
The 911 GT3 RS 4.0 is the first Porsche production sports car to feature so-called flics, or air deflection vanes, mounted on the side of the front apron.  In terms of their basic function, they can be traced to motor racing, are aerodynamically highly effective, and increase down force on the front model and provides down force on the rear axle.  In the case of the new 911 GT3 RS 4.0, it is painted the same color as the car and features special side plates that provide aerodynamic compensation for the front end flics.  As a result, at top speed, aerodynamic forces exert an additional 190 kilograms pushing the Porsche 911 GT3 RS 4.0 onto the road.  As a result, the 911 GT3 RS 4.0 offers yet higher acceleration potential for even higher cornering speed on racing circuits.