| | |
| --- | --- |
| | |
|  Porsche 718 Cayman | Audi TT RS |
Compare Breathtaking Performance in the New 2019 Audi TT RS Coupe and the 2019 Porsche 718 Cayman
If there is any one arena in the automotive market that's constantly taking competition to the next level, it's the extended family of German luxury and sports cars. And when it comes to compact, muscular little coupes, there are two names that you need to know: Audi and Porsche. These two brands are famous for their small sports coupes, like the stunning Porsche 718 Cayman and the spirited Audi TT RS.
The rivalry between the two is fierce, but knowing which one is going to give you the better overall performance for your daily life in Durham comes down to more than just the numbers. Check out the comparison below, or visit Porsche Southpoint to test-drive the new Porsche 718 Cayman.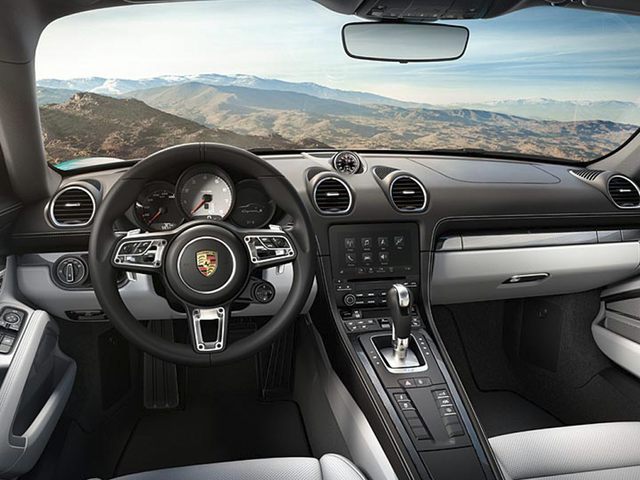 2019 Porsche 718 Cayman vs 2019 Audi TT RS
The Audi TT RS is recently refreshed for the 2019 MY
The Porsche 718 Cayman underwent some serious refreshing for the 2017 MY and carries over a lot of new features
Standard power for the 2019 Audi TT RS comes from a 400-horsepower 2.5-liter five-cylinder TFSI engine
Standard power for the 2019 Porsche 718 Cayman comes from a 300-horsepower 2.0-liter four-cylinder turbocharged engine
Though the Audi TT RS offers more total horsepower, the Porsche 718 Cayman boasts distinctly better road performance and a more enjoyable ride quality.
The 2019 Audi TT RS uses quattro all-wheel drive; the 2019 Porsche 718 Cayman prefers the heritage sport performance feel of rear-wheel drive.
Both sports cars feature richly decorated interior cabins with a variety of available package options.
The Porsche 718 Cayman starts at $56,900.
Prices for the 2019 Audi TT RS haven't yet been listed, but will likely start at $65,000 or more.