Sales Manager Tim Blancett approves of this month's luncheon!
Employee luncheons are an important event each month at Hendrick because it brings the entire dealership together from sales, service, and management to discuss the month's events.
It is an event the employees look forward to each month because of the food, the communing together, and to participate in celebrating their teammates.
But what makes Porsche Southpoint luncheons different?
"Our luncheons have become family style where everyone can sit and talk to one another and enjoy each other's company. It is a big family dinner with homemade food," states Retail Operations Manager Dean Perella. The smells traveling through the dealership on the day of the luncheon are delicious. Sales Manager Tim Blancett, Dealer Customer Experience Manager Vicki Parker-Basting, and Retail Operations Manager Dean Perella prepare delicious homemade foods and the employees love it!
Vicki Parker-Basting says, "It is fresh homemade team involvement!"
This month's luncheon Dean prepared Chinese food and Tim brought in homemade egg rolls and Vicki prepared the salad.
It isn't just the food that makes Porsche Southpoint luncheons something to look forward to, it is also the recognition of those employees who go above and beyond and are rewarded for their hard work. This month's Most Valuable Player in Service is Miguel Diaz, a Porsche Technician who as Service Manager Theresa Kramer states, "is always willing to stay late or goes above and beyond to help service Porsches to make sure the job is completed for the client in a timely manner."
Porsche Technician Miguel Diaz
Theresa also recognized Porsche Technician Brandon Davidson for achieving 100% in "Fix it Right" surveys and completions.
ROM Dean Perella & Porsche Technician Brandon Davidson
Porsche Sales also recognized Porsche Brand Ambassador Edwin Kratzat as leader in sales for the month.
Brand Ambassador Edwin Kratzat
Porsche Southpoint would also like to congratulate Variable Operations Assistant Matthew Decker who got married this weekend. Here is to a lifetime of happiness!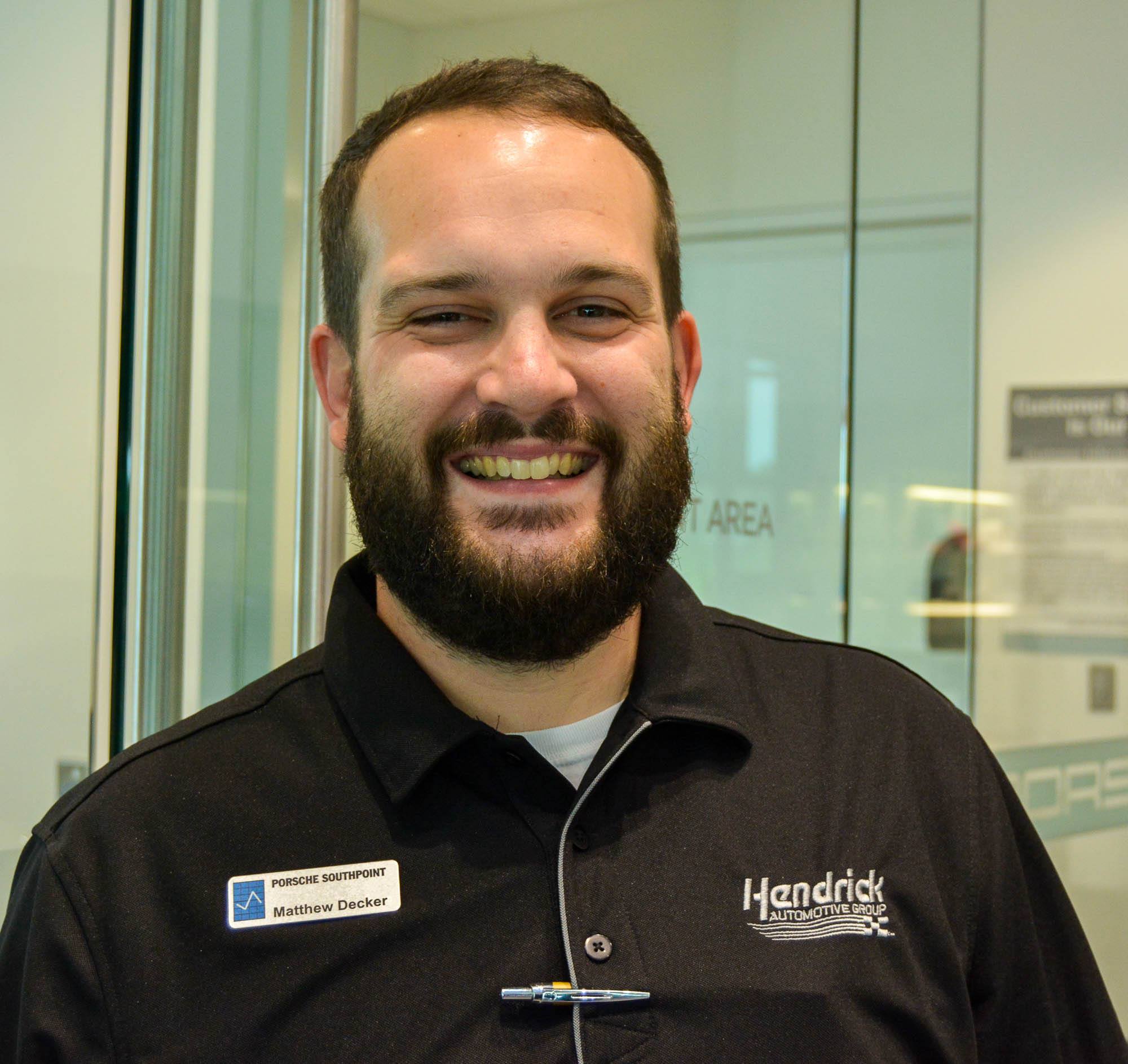 #PorscheSouthpoint #EmployeeLuncheons #WeLoveOurEmployees #FamilyStyleDining #FamilyStyleLunches #GetToKnowUS #RaleighPorsche #DurhamPorsche #ChapelHillPorsche #TeamHendrick